A few weeks ago I tried being the 'cool' mom and let the kids have Fun Friday (aka shove as much candy as possible in your mouth before dad comes home).  For obvious reasons that I should have foreseen, this didn't pan out well.
In the spirit of overcompensation I had Fruit Friday last week instead.  Fresh.  Healthy.  What could be better?  Things went fabulously until the next day when we ushered in Shit Your Pants Saturday.  It wasn't so much the quantity as it was the quality and consistancy that really got me.  I haven't had diapers like that since I served Corn Chowder for dinner two nights in a row.
I have got to master the art of moderation.
On the upside, my new favorite nephew thinks I look like Evangeline Lilly.  Miiiiiiight be a bit of a stretch seeing as I am still having trouble tucking my muffin top into jeggins, but I'll take it.
Chatterbox
Chatterbox is a Girl Scout and I sometimes get the feeling she's just in it for the cookies.  Last year she sold over 600 boxes and earned a week at horse camp.  This year she is going for the stars with a goal of 1,000.  All she has to do is put on her brown vest, her cute smile and people fall all over themselves to pay outrageous amounts of money for little boxes of cookies.  It's that easy for her.
Then comes the fun part.  And by fun I mean the endless process of delivering.
And by endless I mean eleven months later I still have two cases of Thin Mints in my possession.
Looking to order some Girl Scout Cookies?  Move along sister, nothin' to see here.
Bubba
We are pretty sure Bubba is a genius.   I'm not just saying that because I'm required to as his mother.
He knows his colors, even the lame ones like brown and gray.  Bubba can pick out his shapes too.  Not just circle and square either.  He knows all the flashy ones, like cube and cylinder.  The alphabet?  A to Z.  Numbers? 1-10 so far.
But the damn kid won't talk.  Not anything more complex than a mama or dada.  Now, before you all start raising eyebrows, let me explain.  I taught him baby sign when he was a year old and he took to it like a fly on shit.  He wanted to know everything and his appetite for learning was voracious.  To this day he can show you the sign for just about any animal you can think of.  He even made up a few signs of his own when he got frustrated because I didn't have an immediate answer.  I know when he is hungry, thirsty, tired, hurting or even scared.  He communicates so well with us that I think he has decided he doesn't need to talk yet.  I'm fine with this since Chatterbox speaks enough for two, but it will be nice to hear him say 'I love you' someday.  Of course that would be ideal.  What I will probably hear first is 'Gimme more hot dog.'
And why would he say something like that?  Because if Bubba could do his own meal planning it would consist entirely of processed food and rolls.  I spend hours finding healthy recipes where I can hide vegetables in sauce or stuff them somewhere in hopes that he will unknowingly consume them.  The boy is a genius though, and I have watched him stuff his face with food and then meticulously start spitting out the green stuff like a Pez dispenser.  His dream lunch?  Chef Boyardee Mini Ravolis.  He will devour an entire can in one sitting.  Gag.  But the homemade Spinach Lasagna is untouchable.  He just looks at me like 'who in the hell put this green stuff in here?'  I have two things going for me, his vitamins taste like candy and he loves smoothies.  What he hasn't figured out yet is that I've been making his smoothies with spinach and what he doesn't know won't hurt him.
Butterball
We hit some big milestones this week.  For starters, she is giving kisses.  At least we think she is trying to kiss.  It's a little hard to tell since she isn't very discriminating in who she picks to suck face with .  Hopefully that and the naked thing will get better by high school.
There are two teeth officially poking through making our little Snaggletooth look even more adorable.  Which is nice because the crankiness had been a huge detraction.  How quickly I had forgotten that teething sucks.  I am learning that Butterball wants to be in constant contact when she doesn't feel good and since she is our last baby I don't mind the extra snuggling.  I just wish she didn't weigh so much.  We are pushing 18 pounds already; her brother is two and barely weighs 25 with his clothes on and in a soaking wet diaper.
The most exciting news of all, Butterball has finally figured out how to get 'round her booty and roll.  And roll.  And roll.  When she figures out how to build up momentum going she will be unstoppable.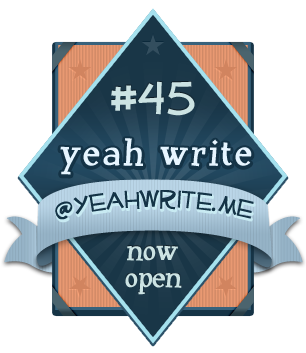 I am obsessed with feedback, tell me what you really think.  Love it?  Pass it on!
Copyright Motherhood My Way 2012